Motor Parts
Normally, the clients from the motor or generator companies would like to buy magnets from us and assembly the motor parts by themselves. But nowadays, more and more clients turn to purchase the whole parts directly from us. As a manufacturer of rare-earth magnets, this made us easier to make these parts. Magnets to be adhered to the metal body with strong glue in our workshop helps the clients save time and money. We have strong ability to design and manufacture various motor parts to suit your application.
| | |
| --- | --- |
| | Cow Magnets are popular with dairy farmers and veterinarians to help prevent Hardware Disease in cattle. While grazing, cows eat everything from grass and dirt to nails, staples and bits of bailing wire (referred to as tramp iron). Tramp iron tends to lodge in the honeycombed walls of the reticulum, threatening the surrounding vital organs and causing irritation and inflammation, known as Hardware Disease. The cow loses her appetite and decreases milk output (dairy cows), or her ability to gain weight (feeder stock). Cow magnets help prevent this disease by attracting stray metal from the folds and crevices of the rumen and reticulum. One magnet works for the life of the cow! |
Magnetic Fuel Saver
Fuels are mainly made up of hydrocarbons. Using a Super Fuel Saver, fuels change their magnetization orientation as they cross a magnetic field in the opposite direction of the external magnetic field. At the same time, hydrocarbon molecules change their configuration which reduces the intermolecular attraction forces. The fuel saver finely divides and distributes the particles evenly thus making the combustion more efficient.

Save Fuels, Save Money!!!!!!!!!!!!!!!!!!!!!!!!!!!!!!!



1, Save money
2, Increase fuel mileage
3, Reduce exhaust gas
4, Installing fast and easily
5, No power needed
6, Works on petrol or diesel engines
Magnetic Badges/Fasteners provide a professional way of displaying nametags and identification without damaging clothing. These badges offer great option for visitors, employees, and other frequent wearers of identification. It is very easy to use, inexpensive, and reusable.

Magnetic Clips are ideal for holding notes, coupons, messages and more. Post them on any steel surface such as a refrigerator, locker or file cabinet to keep items easily visible.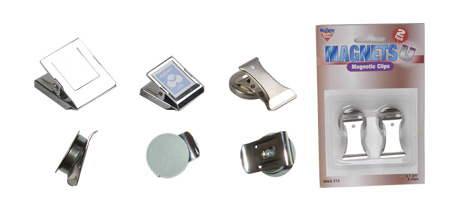 The Magnetic Tray is widely used in vehicles and machinery for repairs. You can put some tools which are easy throw or easy to forget, such as, balls, screws, screwdrivers, etc. All the magnetic trays are mirror-polished surface processing.
Round Version:

Rectangle Version:



Magnetic Catch, Door Catch






These Magnetic Toys are widely used for teaching and playing for children